WIBU March Lunch with a Women's Health Panel
March 16, 2022 @ 11:30 am

-

1:00 pm
Women's Health Panel
Let's talk about the "private" areas no one wants to talk about. Is sneezing or coughing an issue? Do you avoid some events, not knowing how close the bathrooms are? Do you have pressure "down there"? Is your libido not consistent or feeling nonexistent?
You are not alone, and it's time we chat about this! There is no shame; you are not broken. These are real issues women have, so let's open up about them.
Join Dr. Brianne Kelly and Falisha Jean Lewis, along with Peggy Cenova, as they lead us through this discussion in a most respectful manner. They will share expert tips and next-step suggestions, and you will leave feeling seen, understood, and no longer alone to wonder about these issues.
You do not want to miss this!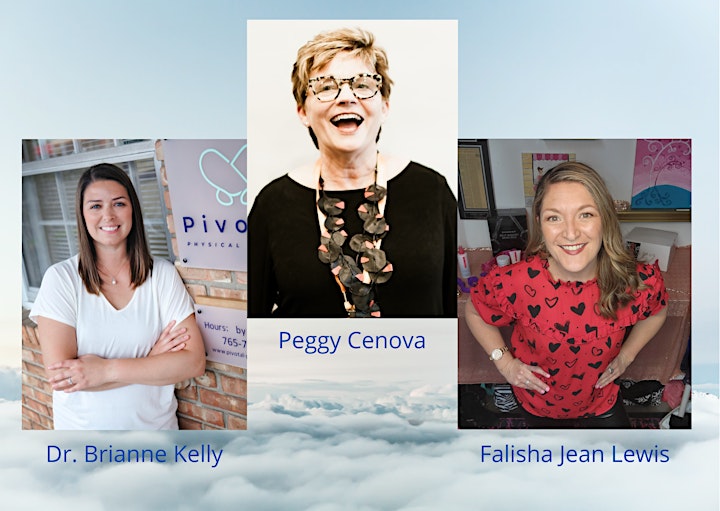 Peggy Cenova
Peggy Cenova is the Regional Director for the East Central-Indiana Small Business Development Center. In that position, she advises small business owners and managers to help their businesses start, grow, and flourish. In that capacity, she has helped more than 80 businesses open in East Central Indiana. She is the former owner of the specialty advertising catalog company – Straight Status, which was listed in Inc. Magazine's 500 fastest growing businesses. Her expertise is in strategic planning, small business start-ups, and business sales success. Peggy is a voracious reader and loves studying business and marketing best practices. As a long-time WIBU member, she is excited to be a part of the March program.
~~~
Dr. Brianne Kelly
Dr. Brianne Kelly founded Pivotal Physical Therapy in 2021 and serves women experiencing pelvic pain, bowel and bladder issues, and painful intercourse. She provides individualized care and equips women with education to resolve symptoms and improve their quality of life and relationships. She grew up in Portland, Indiana, before attending the University of Evansville, where she earned her doctorate in physical therapy. Along with nearly 10 years of experience, she has completed over 100 hours of post-doctoral training in pelvic health. She and her husband, Mark, live in Muncie with their two sons and a dog. Visit www.pivotal-physicaltherapy.com.
~~~
Falisha Jean Lewis
Falisha Jean Lewis has been on 36 trips around the sun and lives in Muncie. She has had her Pure Romance business for 15+ years, starting in 2006 when she was a student at Ball State University. She loves to help people overcome challenges. Falisha earned her bachelor's degree in psychology and still works with students on campus, giving lectures each semester and working with immersive learning classes to raise awareness for and provide sexual health resources for the community. She and her partner have been together for 15 years, and he owns Lewis Custom Woodworks. They have a 7-year-old, an almost-2-year-old, and a Husky, and their lives are blissfully busy. She loves going for walks, runs, and bike rides; dancing naked in her kitchen; and eating good food that she doesn't have to cook. She is grateful for her flexible schedule with this business, allowing her to live the life of her design.